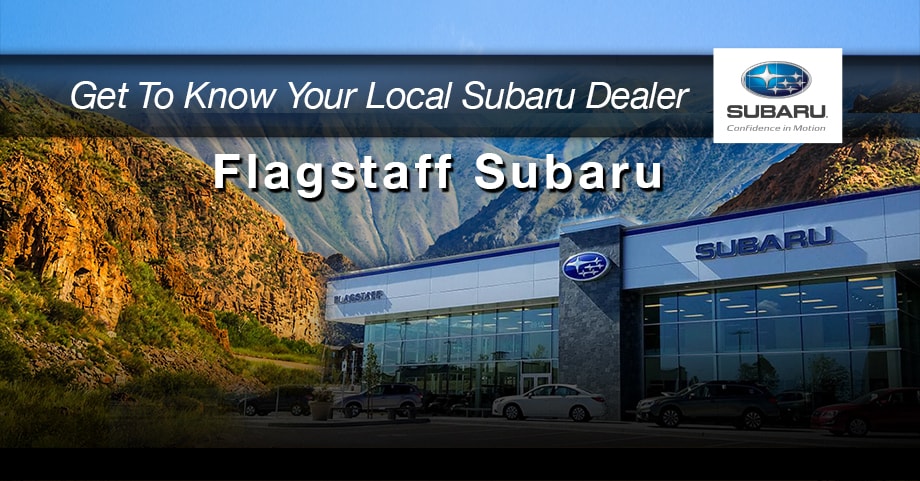 Get To Know Your Local Subaru Dealership In Flagstaff, Arizona
Welcome to Flagstaff Subaru! We're the go to Subaru dealership for drivers who live in Flagstaff, and Bellemont, Arizona.
What makes us stand out against the competition?
Our commitment to you - our customers - is the most important aspect of our business, and it shows. Our number one goal is to make your car buying experience better than ever!
Why Choose Flagstaff Subaru Near Bellemont, Arizona
At Flagstaff Subaru, we offer a huge selection of new Subaru models that we love including the Subaru Forester, Impreza, Legacy, Outback and Crosstrek.
Not interested in buying a new Subaru? We also offer a healthy selection of used cars, trucks and SUVs.
Need help with an auto loan? Talk to the experts in our finance department!
Looking for a Subaru service department? Trust the expertise offered by our car service gurus, get time-tested Subaru parts, and the quality service you deserve in our Flagstaff Subaru service center!
Visit Flagstaff Subaru Today!
Flagstaff Subaru is located at 4960 Market Place Dr. in Flagstaff Arizona, and we proudly serve drivers in Bellemont, Arizona and beyond. Count on our dedicated staff members to help you find a new Subaru or used car you love today!
Contact us now to schedule a test drive, then get to Flagstaff Subaru today!
Flagstaff Subaru Vision & Values
To be so effective that we are able to be helpful to others.
At Flagstaff Subaru, we hold the following fundamental values. These are the values that contribute to our success as a business and the wellbeing of our employees.
Individual Responsibility and Accountability - As a means of demonstrating our enthusiasm and sense of caring to our customers, we will be individually responsible and accountable for our internal and external customers, all products and services, our own performance and the quality of our products.
Unconditional Dedication to Excellence - There is no place for mediocrity or half-hearted efforts at Flagstaff Subaru. We accept personal responsibility, accountability and authority for overcoming obstacles and being our very best. We actively choose to excel in every aspect of our personal and professional lives.
Cooperation, Communication and Working Together - Working together at all times in close mutual support of one another is a fundamental tenet of Flagstaff Subaru. We value open communication and encourage new ideas, realizing that cooperative teamwork produces a better work environment and enthusiastic customer.
The Worth of Our People - Our people are our greatest asset and we feel that the demonstration of respect for the uniqueness of every individual is important. We believe that such an attitude will build a team of confident, creative members who possess a high degree of initiative, self-respect and self-discipline.
Ongoing Improvement - We choose not to accept the status quo. We believe that there is always room for improvement, and we understand the importance of ongoing education in any form. We are driven to provide opportunities for personal, professional and organized growth and innovation for our people and our company.
Honest and Integrity - We believe in being honest with oneself and others; that all decisions are to be made with integrity. Leadership is about setting good examples for others to follow, expecting as much out of yourself as you do others and living with integrity.