Pawtraits With Santa
For several years now, Flagstaff Subaru has partnered with the Coconino Humane Association in holding a pet adoption event. Santa Claus also lends a hand and takes "pawtraits" with his four-legged friends and their families.                 
Trunk Or Treat
Flagstaff Subaru holds an evening full of family fun, candy and prizes every Halloween. The dealership is always full of awesome costumes and "scary" trunks.
Don't Text And Drive
Distracted driving is never okay, and that's why we've joined AT&T's "It Can Wait" movement. We've pledged to never drive distracted and to spread awareness in Flagstaff and the surrounding communities. 
Safety is paramount to Subaru and we are extremely proud to promote and sponsor no texting while driving.
Each Year, one lucky resident joins the movement and drives off in a new Subaru.
Take the pledge
today to and you could win the Subaru this year!
Barks & Brews
Nothing attracts dog lovers more than pub crawling with a furry friend while helping local causes. The Barks & Brews event, which Flagstaff Subaru sponsors, is a fundraiser for local and regional humane organizations. It's a day full of craft beer (including non-alcoholic dog-friendly suds), adoptions, photo booths, doggie apparel and lots of fun.
Subaru Share The Love Event
At Flagstaff Subaru, we love giving back to worthy causes. That's the heart of the Subaru Share the Love Event, which is held at the end of each year.
During the Subaru Share the Love Event, for every new vehicle leased or purchased, $250 is donated to a national or local charity. We selected our hometown charity, The Shadows Foundation, and donated a total of $17,159! The Shadows Foundation provides services and financial assistance to families affected by life threatening diseases. We are proud to support our local foundation and help make a difference.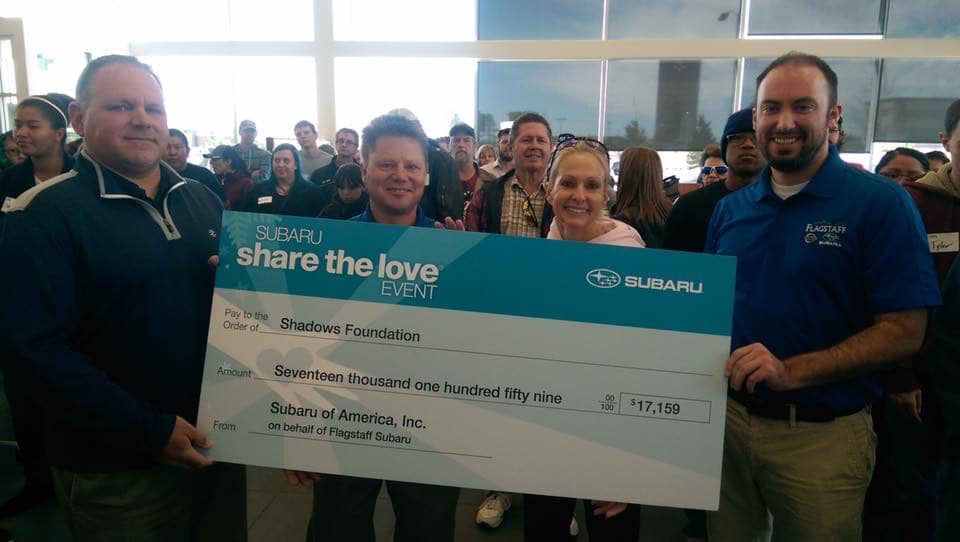 Visit Us Today 
As you can see, we take community involvement seriously. Keep an eye out for our next big event or visit Flagstaff Subaru today!